Man remanded on Belfast robbery charges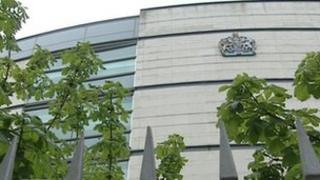 A man has been charged with trying to rob a Belfast pharmacy only two hours after he held up staff at another shop.
David Maurice Adams, 39, from Jocelyn Street in the city, is alleged to have stolen £290 from the first shop, on the Castlereagh Road, on Wednesday.
He was later chased from the chemist's shop on Sandy Row into Shaftesbury Square where he was caught by police.
Mr Adams was accused of robbery and attempted robbery charges and of having a knife
He was refused bail at Belfast Magistrates Court after a police officer said he was on licence from prison for firearms offences.
The 39-year-old has been remanded in custody until 23 August.