Rain causes havoc for the plants in our gardens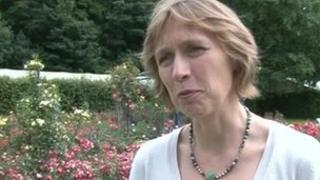 The wet summer has had a devastating effect on many homes, businesses and farms with flash flooding, but it's also caused misery for many a keen gardener.
At Greenmount College in Antrim the rose beds are strewn with petals and buds are rotting in their stems.
The gardeners are constantly battling the elements to remove dead flowers and keep flower beds weed and petal free.
Claire Woods from the college said gardeners have found it difficult to cut grass and keep up with maintenance because the ground is saturated.
"At the gardens here at Greenmount we've had some plants where the flowers have just rotted in bud, they never even opened," she said.
And it is a similar picture at the National Trust's gardens in Rowallane, Saintfield.
In fact the only wildlife enjoying our wet summer are the weeds and slugs.
Many gardeners are complaining of 'monster slugs' this year - larger, fatter and more determined than ever.
Averil Milligan, head gardener at Rowallane explains that the rain and damp weather has allowed them to feast on the sumptuous vegetation and plants.
Damage
"The slugs have been having a field day," she said.
"It's perfect weather for them with damp and warm evenings. The slug damage has always been there but this year the slug and snail population is causing more of a problem.
But Averil said the wet weather has had some benefits to certain plants.
"The herbaceous plants have been fantastic, they've really come on quickly and filled out really well," she added.
There's been little benefits for garden centres and growers here.
The washout of a summer has meant many are struggling to sell plants, pots, compost and garden furniture.
John Shannon runs a nursery in Larne and said it's been a difficult year for plant suppliers.
"Business has been diabolical," he said.
"I like to support local growers but they haven't been selling as many plants to me. It has had a knock-on effect for the garden supply industry too.
"The bad weather has put people off gardening, it really has been a disappointing, very difficult time."