Northern Ireland shines in 2012 Olympic Opening Ceremony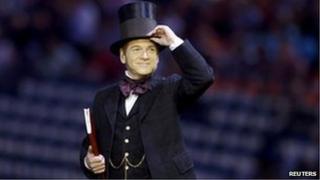 Northern Ireland has had its own starring role to play in the Opening Ceremony at the Olympics.
Local athlete Katie Kirk had the honour of lighting the official Olympic cauldron along with seven other young athletes from around the UK.
Dame Mary Peters symbolically passed an Olympic torch to her during the final stages of the three-hour ceremony.
Belfast-born actor Kenneth Branagh also took part, along with local musicians and children from several NI schools.
Over one billion people from across the world tuned in to watch the spectacle live from London.
Dame Mary Peters nominated runner Katie Kirk for the honour.
The passing of the torch from some of the UK's most successful Olympians to the young athletes was a symbolic gesture to inspire a generation.
Giant's Causeway
Twenty athletes from Northern Ireland will take part in the Olympics, representing either Team GB or Team Ireland.
The show which was directed by the Oscar-winning film director, Danny Boyle, cost around £27m.
Nine local schools also took part, forming a Guard of Honour for nine international teams.
Bangor musician Alex Trimble, from Two Door Cinema Club, performed during the lighting of the Olympic Cauldron.
A track called I heard Wonders, by Belfast-born music producer and DJ David Holmes, was played during the final stage of the torch relay and he later expressed his appreciation by contacting Danny Boyle on Twitter.
He tweeted: "thank you for using my track in your amazing ceremony danny! it was a lovely surprise! and a great honour sir! one love!".
A group of Northern Irish youngsters appeared in a video that formed part of the opening sequence of the ceremony.
The Phil Kids' Choir were filmed at the Giant's Causeway for part of a montage of singers from around the UK.
The group performed the popular song Danny Boy.
Part of the ceremony charted Great Britain's rise during the industrial revolution, with Belfast-born actor Kenneth Branagh playing the leading role.
Branagh played Isambard Kingdom Brunel in the ceremony, speaking Caliban's lines from Shakespeare's The Tempest.
"Be not afeard: the isle is full of noises..."
Brunel was world-leading engineer of railways, steamships, bridges, and tunnels.
Ahoghill dancer
Lynne McDowell, from Ahoghill in County Antrim, participated in the ceremony in a segment charting British music through the generations.
The communications manager was one of thousands of volunteer performers who spent about 150 hours in rehearsals for the performance.
Afterwards, Ms McDowell said: "Performing at the opening ceremony was an experience like no other. It was a real dream come true."
Fourteen athletes from Northern Ireland will be competing for Team Ireland. They were led into the stadium by boxer Katie Taylor.
Team GB was led into the stadium to huge applause by Sir Chris Hoy. Around half of Team GB's 514 members took part in the ceremony.
Some of the local members of Team GB include rower Alan Campbell, Peter and Richard Chambers, table tennis player Na Liu, hockey player Iain Lewers and cyclist Wendy Houvenaghel.
Nine local schools also struck gold with the chance to join in the celebrations by forming a Guard of Honour for teams of athletes en route to Olympic Park.
Sri Lanka - St Patrick's and St Brigid's Primary School.
Suriname - St Catherine's College, Armagh.
Swaziland - Ballee Community High School, Ballymena.
Sweden - Christ the Redeemer Primary School, Belfast.
Philippines - Dundonald Primary School.
Jordan - Belfast Boy's Middle School.
Jordan - Oakgrove Integrated College, Derry.
Kuwait/Saudi Arabia - Park Hall integrated College, Antrim.
Philippines - Orangefield High School, Belfast.
Fionnuala McGrath, PE teacher at St. Catherine's College, Armagh said the evening had been a dream come true.
"Mary Peters is the reason I became a PE teacher, when I watched her in 1972 I knew I just had to do that. I hope this evening will just inspire the children and leave a great sporting legacy."
Peters, who won a gold medal during the Munich Olympics, is an ambassador for the 2012 Olympics.
Pupils from Ballee Community High School in Ballymena had also been learning some traditional greetings from Swaziland so they could welcome the athletes they are supporting.
In London's Hyde Park, a concert was held celebrating music from across Great Britain. Snow Patrol's Gary Lightbody took part in the concert, representing Northern Ireland.
The opening ceremony was shown on big screens in Northern Ireland.
Hundreds of people turned up to watch the show at Belfast City Hall and at Waterloo Place in Londonderry.
The artistic director of the ceremony, Danny Boyle, has his own links to Northern Ireland.
He began his career working for BBC Northern Ireland as a television producer before moving on to produce hit movies such as Trainspotting and Slumdog Millionaire.