Corn snake braves Portadown winter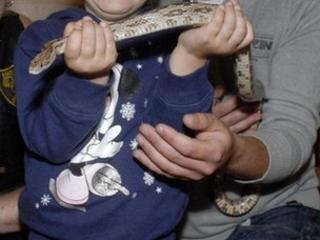 A five foot long snake missing for six months has braved a Portadown winter to be reunited with its owners.
Corn snake Boots went missing from the Johnstons' home in the Corcrain area in January.
The species is native to Central America and the southern states of the US.
Jamie Johnston, whose daughter Chloe, owns the snake, said they had been told it should not have been able to survive outdoors in the County Armagh climate.
However, not only did Boots survive, he appears to have thrived.
Mr Johnston said the snake was found in long grass at a bonfire site near their home, two days before the fire was to be lit on 11 July.
"A friend of mine in work said there had been a snake found in Corcrain and said there was a picture of it in the paper.
"So I got the paper and remarkably enough it was our snake," Mr Johnston said.
"We went down to the local pet shop (where it was handed in to) and had a chat with the guy and it turned out to be Boots."
He said the pet shop owner told them Boots "shouldn't really have lasted a couple of weeks out in the weather conditions that we get, because it needs the heat to survive".
'Full of beans'
Showing he was tough as his name, Boots not only survived but grew during his six-month odyssey.
"It was only just shy of five feet long when it disappeared and when it returned it was five and a half feet long and quite fat and full of beans," Mr Johnston said.
"I think he's obviously smelt the mice that have been in the grass and he's been having a feeding frenzy in the field."
Despite this, the family are now determined there will be no more slippery behaviour from Boots in the future.
"I have a new tank now and it has a perfectly good lock on it," Mr Johnston said.
"So it'll definitely not be getting out again."