Northern Bank downgrades economic forecast for Northern Ireland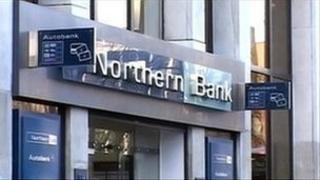 Northern Bank has downgraded its 2012 economic forecasts for Northern Ireland.
They now think the local economy will grow by just 0.1% over the rest of this year.
Previously, they had thought that it would grow 0.3%, but after a particularly difficult few months they have revised that idea.
Northern Bank's chief economist Angela McGowan said that the European debt crisis was the biggest drag on growth.
Second dip
However, she said the impact of the European downturn on Northern Ireland would not be as bad as elsewhere in the UK.
She said: "This is simply because Northern Ireland's private sector is small and its export base limited."
The most recent quarter has seen the UK economy as a whole shrink much more than expected.
Gross Domestic Product (GDP) fell by 0.7% in figures for economic output in the second quarter of 2012.
That means we are into a third quarter of the second dip of this recession, which has naturally impacted Northern Bank's forecast.
Ray of light
Perhaps unsurprisingly, things are worst in Northern Ireland's construction sector, which the bank predicts will contract 2.58%, but other sectors such as IT, arts and entertainment, agriculture, and hospitality are faring better.
One ray of light is that as inflation falls back, people will have more disposable income.
However, Ms McGowan thinks that depending on domestic markets is still a risky strategy.
"Although conditions are difficult, significant export opportunities still exist in emerging markets," she said.