Row follows DRD decision not appeal discrimination case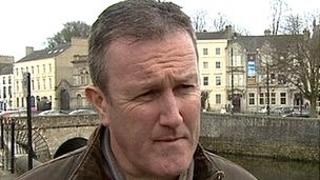 A fresh political row has broken out over a tribunal which found that a Stormont department discriminated against a Protestant job applicant.
Last month, a tribunal ruled the Department for Regional Development, then headed by Conor Murphy, discriminated against a candidate for a top post at NI Water.
The current minister, Danny Kennedy, has confirmed there will be no appeal.
Mr Murphy claimed Mr Kennedy's decision was "politically motivated".
The Sinn Fein representative told the BBC that the outcome of the tribunal had effectively branded him as "sectarian" and "a liar" and said he did not intend to let the findings stand.
'Nonsense'
He was angered at his former department's decision not to appeal and accused his Ulster Unionist successor of "scoring cheap political points at the expense of the truth".
However, Mr Kennedy dismissed those remarks as "nonsense".
The UUP MLA said that lodging an appeal would incur a considerable cost to the public purse and added that the "prospect of success in any appeal is at best uncertain".
The fair employment case was taken by Dr Alan Lennon, who applied for the job of chairman of NI Water last year.
Mr Murphy appointed a Catholic, Sean Hogan, to the post in March 2011.
Two months later, the Sinn Fein MP was replaced as minister at the Department for Regional Development (DRD) by Mr Kennedy.
The tribunal upheld Dr Lennon's claim and ruled that Mr Murphy broke the code of practice for public appointments.
'Significant costs'
It also said the Sinn Fein representative had added new criteria to the selection process "in order to secure Mr Hogan's appointment".
In a statement on Monday, Mr Kennedy said: "Substantial public money has already been spent contesting this case and I have considered the additional significant costs of any appeal in making my decision.
"Both sides have been funded by public money and this would continue to be the case in further proceedings.
"Even if an appeal was successful this may result in further proceedings before a tribunal, incurring a greater cost to the public purse. Such costs are unquantifiable at this time."
The minister added that it was not in the public interest to appeal the case.
'11th hour'
Mr Kennedy said he would ensure that the DRD "discusses the issues arising out of the tribunal hearing with the Equality Commission and the Commissioner for Public Appointments in Northern Ireland".
However, Mr Murphy claimed the Mr Kennedy had "sat on this for six weeks and decided at the 11th hour that there will be no appeal".
He told the BBC's Evening Extra programme that he would be seeking further legal advice.