Ninety Coca-Cola jobs under threat at Lisburn bottling plant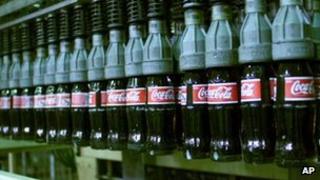 Up to 90 jobs are at risk at a Coca-Cola bottling plant in County Antrim.
It is part of a company-wide restructuring by the US beverage giant, which plans to outsource distribution in Northern Ireland to another company.
The firm told staff at the Knockmore plant near Lisburn they would enter into a 30-day consultation period.
A spokesperson said: "We will be using a third-party distribution company, and hope that some employees may transfer to that company."
Unite spokesman Sean McKeever said staff were shocked and astonished.
"We believe the work is there within the plant, and if Coke looks at the outside contractors they're bringing in to do work at the plant, there's absolutely no reason for any job losses," he said.
Lisburn councillor Stephen Martin said the news had "come as a bolt out of the blue".
"Coca-Cola has always been viewed in Lisburn as one of our leading employers, having taken a very active role in the community," said the Alliance Party representative.
"We have got to look at ways in which we can work with Coca-Cola to lessen the impact of these job losses.
"The 30-day consultation period within the company, while a commercial decision, gives no real time to allow for alternative solutions to be worked out or for staff to come to terms for the changes that lie ahead. The impact on staff cannot be underestimated."
Starting next year, the company's business will be built around three units: Coca-Cola Americas, Coca-Cola International and a bottling division, which will oversee its bottling operations outside North America.