Aer Lingus makes operating loss of 4.4m euros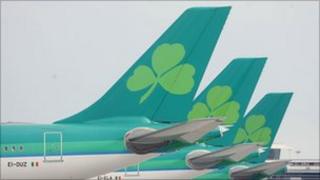 Aer Lingus have made an operating loss of 4.4m euros in the first half of this year.
This compared to losses of 26.8m for the same period last year.
Aer Lingus said it is normal for airlines to make a loss in the first half of the year, and said they should be in profit by the end of December.
The airline has had to pay more in operating costs because of rising fuel prices and airport charges.
Revenues for the six month period rose by 10% to 626.3m euros from 569.1m euros, while operating losses fell to 4.4m euros, down from 26.8m euros.
Christoph Mueller, Aer Lingus' chief executive, said the airline had produced a good trading performance in the seasonally weak first half of 2012.
"The group's operating loss of 4.4m euros represents a significant improvement over the prior year," he said.
"These results clearly demonstrate that our strategy of building a leaner and more efficient Aer Lingus is working.
"Since 2009, the Aer Lingus staff and management team, have delivered significant and successful change to the business.
"These changes include the re-positioning of our business to serve underlying demand, gains in market share and significant ongoing cost reduction leading to a return to profitability."
Aer Lingus said it would continue to focus on improving its operational and financial performance during the key summer travel months.
"If current trends continue, Aer Lingus' operating profit, before net exceptional items, for 2012 will be at least that achieved in 2011 (49.1m euros)," said Mr Mueller.
The airline also had to pay more than 4m euros to advisors to help them fight a takeover bid by Ryanair.
They have asked shareholders to reject their rivals' current attempt to buy a bigger stake in Aer Lingus, which they say undervalues the firm and would give Ryanair a monopoly.