Sheep stolen at Claudy, County Londonderry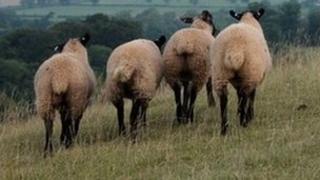 A number of sheep have been stolen from a field in the Claudy area of County Londonderry.
Two ewes and four lambs were stolen from the Ballyrory Road some time between 19:30 BST on Thursday 5 July and 11:30 BST on Wednesday 25 July.
The sheep were freshly clipped with blue coloured at the back of their head. The two ewes were also tagged.
The animals also had an distinctive additional mark - a small 'V' shaped nick at the bottom of their right ears.
Police are appealing to anyone with any information to contact them at Waterside Station on 0845 600 8000 or call Crimestoppers on 0800 555 111.
The latest theft follows two much larger incidents in north Antrim this month.