Former hunger striker Tom McFeely wins appeal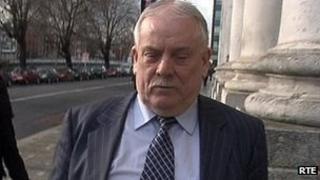 Former IRA hunger striker turned property developer Tom McFeely has won an appeal against a three-month jail sentence for breaching court orders.
Mr McFeely received the sentence at Dublin's High Court last November over failure to rectify fire safety defects at the Priory Hall apartments complex.
However, a judge said Mr McFeely had been ordered off the site and could not be held to be in breach of the order.
On Monday, Mr McFeely was declared bankrupt in Dublin.
In October 2011, more than 240 residents of the Priory Hall apartments in Donaghmede, north Dublin, were moved out of their homes and had to be re-housed amid warnings it was fire hazard.
The developer was ordered by the High Court in Dublin to carry out remedial works, but was sentenced and fined when he did not.
Barristers for Mr McFeely appealed it was impossible for their client to comply with orders because he had been evicted from the site.
On Tuesday, Chief Justice Mrs Susan Denham said: "This appeal does not relate to the issue of providing a remedy for the deeply concerning situation which has arisen in relation to Priory Hall, and the position of the residents and owners who have been removed from their homes.
"This appeal relates solely to the issue of a finding of a contempt of court.
"I am satisfied that as a matter of fact he could not be held to be in breach of the order as he had been ordered by the court from the site.
"There was no factual foundation upon which to make a finding of contempt of court or a breach of an undertaking."
Mr McFeely is a former Provisional IRA member from Dungiven in County Londonderry. He spent 53 days on hunger strike in the Maze Prison in 1980.