Derry RAAD accused refused bail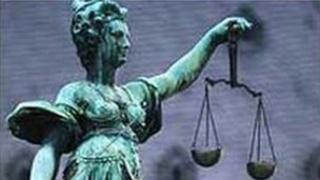 An alleged member of the paramilitary Republican Action Against Drugs must remain in custody, a judge has ruled.
Liam Martin McDonnell was refused bail after the court heard blank-firing revolvers and four replica AK47 rifles were seized in his home in Londonderry.
Mr McDonnell, 26, of Rinmore Drive, is charged with possessing a firearm with intent and possession of articles for use in terrorism.
He handed himself in to police last week.
At the time, he also provided a prepared statement saying all the items belonged to him.
One of the weapons recovered on 12 July was adapted to fire ball-bearings consistent with RAAD's method of punishment shootings, prosecutors said.
Statement
Also recovered during the search were camouflage jackets, balaclavas, an army-style uniform, mobile phones, a two-way radio and a criminal investigation file.
He claimed to be a collector of clothing associated with outdoor activities and to have frequently loaned or given them away at Halloween or to others around the estate.
McDonnell said he collected replica guns as a hobby, stressing that he never used them for illegal purposes.
He also denied involvement with any illegal organisations, the court heard.
But opposing his bail application, a prosecution barrister said: "Police believe he's an active and prominent member of Republican Action Against Drugs."
She set out how, between September 2008 and May 2012, the organisation has been involved in 73 incidents in the city, Strabane and County Donegal.
These include 30 shootings and one murder.
'Intimidation'
"Police believe because of his involvement with these people there is a fear of further offences," the barrister said.
"RAAD use intimidation methods to assault and control members of the community.
"It's commonly reported that parents produce their children to these people in order to be shot."
A defence lawyer stressed the allegations against Mr McDonnell were "hotly disputed".
He pointed out that his client was not charged with membership of any outlawed grouping and had surrendered to custody.
However, Mr Justice McCloskey focused on the alleged link between McDonnell and RAAD.
He described the activities of those involved with the organisation as "horrifying and frankly shocking".
The judge said: "Those who work in and for, and who associate themselves with the self-styled RAAD trade in certain commodities.
"Those are the commodities of naked intimidation, terror, threats, brutal assaults and conduct of this kind."
Refusing bail, he held that the link between McDonnell and RAAD was, for now, sustained.
He added: "The court would not be acting in the real world if it were to form any other view at this stage."