Alan Campbell in lane move ahead of single sculls Olympic final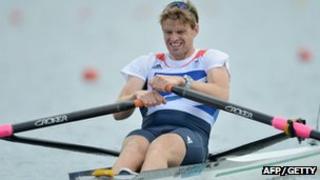 Alan Campbell, Northern Ireland's Olympic medal hope in the single sculls race, will now compete in lane 3 rather than lane 5 in Friday's final.
The change was imposed by race organisers and could disadvantage the 29-year-old rower, from Coleraine in County Londonderry.
The conditions could be more difficult in the third lane due to cross winds at the Eton Dorney venue.
The lanes have been reallocated on the basis of semi final performances.
On Thursday, Coleraine brothers Richard and Peter Chambers narrowly missed out on Olympic gold in the lightweight men's four final, having had to contend with difficult wind conditions in their lane.
Alan Campbell finished second in Wednesday's semi-finals, behind race favourite Ondrej Synek of the Czech Republic, in a time of 7:18:92.
After a commanding early lead, Campbell eased off in the closing stages of the race.