Bangor woman Shannon Boyce on screwdriver attack charge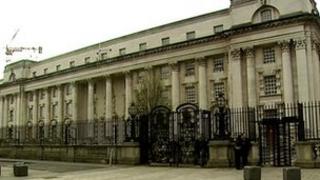 A teenage girl allegedly stabbed a man with a screwdriver during an attack in County Down, the High Court has heard.
She also tried to set a pitbull-type dog on another victim and threatened another girl as violence flared, prosecutors claimed.
The accused is Shannon Boyce, 19, of Drumawhey Gardens, Bangor.
She is accused of two counts of inflicting grievous bodily harm with intent and possession of an offensive weapon.
A man accused of being part of the same attack allegedly struck one victim around the head with a meat tenderiser.
The charges relate to alleged assaults on friends who had met to socialise at a house in Silverstream Avenue, Bangor on 27 July.
It was claimed during a bail application that Boyce and two men confronted them when they left to get a stereo.
Pitbull
She was said to have started screaming and slapping one of the victims across the face.
Kate McKay, prosecuting, alleged that Ms Boyce then tried to get the pitbull to launch an attack.
"A witness observed this applicant take a screwdriver out of a jacket pocket and stab one of the victims in the side," the barrister added.
At one stage Ms Boyce is alleged to have told the victims they "didn't know who they were messing with".
One of those injured in the incident was taken by ambulance to the Ulster Hospital suffering head injuries.
A second male also went to the hospital accompanied by his mother.
Defence counsel Sean Doherty told the court Ms Boyce had grown up in care due to a troubled family background.
He stressed that her circumstances meant there was little chance of gaining an address outside the town.
Ms Boyce was granted bail on condition that she keeps out of the centre of Bangor and the Silverstream estate.
Mr Justice Gillen also imposed a night-time curfew, electronic tagging and an alcohol ban.
The judge emphasised the seriousness of the charges, but held that her application could be distinguished from her co-accused.