Attorney General John Larkin advised DRD case appeal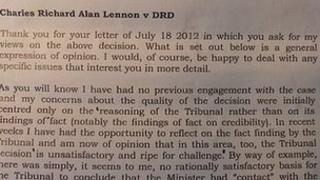 The attorney general advised in favour of appealing a tribunal decision which went against the Department for Regional Development.
The decision in June found the department discriminated against a Protestant seeking a top post in Northern Ireland Water.
It embarrassed Sinn Fein's Conor Murphy who headed the department at the time.
He complained this week when his successor, Danny Kennedy, declined to appeal.
In a letter, dated 20 July, Attorney General John Larkin expressed his firm view the tribunal's ruling in June should be appealed.
The tribunal found that the DRD had discriminated against Alan Lennon, a Protestant, when he sought to be appointed chairman of Northern Ireland Water.
But Mr Larkin concluded the decision was "unsatisfactory and ripe for challenge".
The tribunal concluded that evidence from the minister Conor Murphy was "implausible and lacking credibility".
It also found that Mr Murphy had broken the code of practice for appointments by introducing new criteria.
'Riddled with errors'
According to the tribunal, Mr Hogan was selected because "he was not from a Protestant background and because he was known to the minister and his (then Sinn Fein) ministerial colleagues", Michelle Gildernew and Caitriona Ruane, who were consulted about the appointment.
But Mr Larkin concluded the tribunal's approach to evidence was erroneous, its reasoning was flawed and that the decision was "riddled with errors".
Mr Larkin questioned the finding that Mr Murphy added additional criteria and therefore breached the code for appointments.
He said this finding "borders on absurd" and suggested the minister was not introducing additional criteria but giving examples of how existing criteria were met.
He concluded that the tribunal's decision resulted from "poor fact-finding" combined with "serious flaws in reasoning".
It has also emerged that a second legal opinion from the Bar Library's Noelle McGrenera QC and Martin Wolfe, points to "arguable errors of law".
This opinion sharply criticised the tribunal's conclusions about Mr Murphy's credibility and that it reached an "unsubstantiated view".
It also found the tribunal's reasoning "puzzling" and "deeply unconvincing" when it concluded the minister had breached the appointments code.
The opinion continued: "No reasonable tribunal properly directing itself could have reached the conclusions that this tribunal reached."
While these lawyers advised there was no absolute certainty of a successful appeal, they stated that there was "reasonable prospect of success".
The department said it stood by its statement on Monday.
The current minister, Mr Kennedy said: "I have considered the merits of an appeal and I have come to the conclusion that it is not in the public interest.
"The prospect of success in any appeal is, at best, uncertain.
"Substantial public money has already been spent contesting this case and I have considered the additional significant costs of any appeal in making my decision.
"Both sides have been funded by public money and this would continue to be the case in further proceedings."