Glen Road, west Belfast, mortar bomb searches over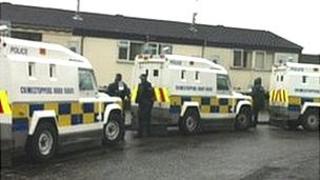 A search for an unexploded bomb on the Glen Road in west Belfast has ended.
Police had been looking for a device following a claim by a dissident republican group that they fired a mortar at a police patrol in the area.
About 100 homes and businesses were evacuated and there were fears disruption could last for days.
However, police have said they are satisfied "nothing untoward has been left in the area and that there is no risk to the public".
The mortar attack was claimed to have taken place at the same time as a gun attack on a police patrol on Friday 27 July.
Police confirmed the only evidence of damage on a land rover was a minor dent.
Ch Insp Emma Bond: "An allegation was made that a device had been fired at police and it was incumbent on us to take the necessary steps to fully search the area to ascertain if there was anything untoward there and deal with that appropriately.
"We have now completed those searches and can confirm that nothing has been found.
"We have also examined footage purporting to be of the alleged incident and are satisfied that it is not a recording of the shooting incident in the early hours of last Friday morning.
"Those who carried out this potentially murderous gun attack on officers and then claimed that a mortar attack had also taken place have shown a total disregard for the people of this community who have faced considerable and needless disruption and had to evacuate their homes and close their businesses during part of this policing operation."
Disruption
Up to 40 businesses had to be evacuated because of the searches, including the Belfast Media Group.
Managing director Martin O'Muilleoir said: "We have 50 people up there trying to provide a community service and we're sticking at it.
"We're not going to let whoever this group is close us down.
"We'll do what we can on Friday and hopefully the police can bring an end to this swiftly and find whatever it is they're looking for."
Sinn Féin MP for West Belfast Paul Maskey said a dissident micro-group calling itself Oglaigh na hEireann (ONH) had once again disrupted the nationalist community in the area.
The group claimed responsibility in the Irish News/Andersonstown News on Tuesday for the attack on police.
ONH is made up of a small but dangerous group of dissident republican hard-liners that has emerged in recent years.
"The disruption caused to this community over the past week has now culminated in over 100 homes being evacuated and local businesses closed," Mr Maskey said.
"This is all due to this group claiming they have fired a mortar in a built-up residential area which has not been found.
"In doing so and in carrying out this attack they have shown utter disregard for this community, a community they purport to represent.