Father Brian D'Arcy defends attending Quinn rally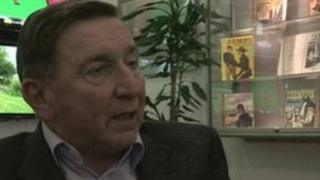 Father Brian D'Arcy has defended his appearance at an event held in support of bankrupt billionaire Sean Quinn and his family.
Several thousand people attended the event in Ballyconnell, County Cavan, last Sunday to show their support.
The newspaper columnist and broadcaster told RTE Radio he had attended because he was a neighbour and a priest.
He also said he had been asked to come.
On 20 July, an Irish judge found that Mr Quinn, his son, Sean Quinn jnr and a nephew, Peter Darragh Quinn, hid millions in assets from the bank.
The judge ruled that they were in contempt after they put international property worth millions of pounds beyond the reach of the Irish Bank Resolution Corporation (IRBC) formerly the Anglo Irish Bank.
Sean Quinn senior avoided jail but was given three months to cooperate with the IBRC.
Mr Quinn jnr and Peter Darragh Quinn were given three-month jail terms by a judge in Dublin.
Sean Quinn jnr is now in prison, although Peter Darragh Quinn failed to appear for sentencing and a warrant for his arrest was issued by the High Court in Dublin.
Fr D'Arcy described what has happened to the Quinn family as a "tragedy" and that he had spent the last years helping local people come to terms with it.
He did not apologise for attending, saying his duty as a priest meant he had to offer support to people in trouble.
However, he said this did not mean that he was in support of wrong-doing.
The priest said he had spoken to Peter Darragh Quinn once recently, although he could not remember the date.
Fr D'Arcy said he had told him that some day he would have to hand himself in to the authorities.
He added that Peter Darragh Quinn knew what had to be done but he had no idea if and when he would do it.
The priest said he would visit Sean Quinn jnr in prison at some stage in the future.