Mother of accused physically restrained in court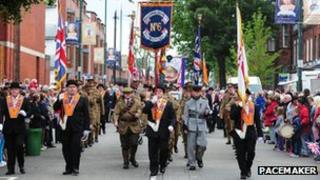 The mother of a man charged in connection with trouble after a Somme commemoration parade in east Belfast had to be physically restrained in court when her son was refused bail.
Roy Thomas Girvin, 22, from The Mount, appeared in Belfast Magistrates' Court charged with rioting on 2 July.
When bail was refused, his mother shouted: "This is a joke, my son wasn't rioting."
A male friend who was with her also had to be restrained.
Plain clothes officers and court security staff had to intervene after he lashed out with kicks and punches.
The uproar began in court after District Judge Harry McKibbin said there was "absolutely no way" he would grant bail to Mr Girvin.
Earlier, a police officer told the court she believed she could connect Mr Girvin to a single charge of rioting.
During the trouble, police came under attack by a mob throwing bricks, bottles, stones and other missiles following the band parade commemorating the Somme.
Applying for bail, Mr Girvin's solicitor said the only evidence against him was "blurry" CCTV footage but conceded there was "no shirking away" from his relevant criminal record.
The judge remanded the accused into custody to appear again in court on 10 August. He said it was clear Mr Girvin had not "learned the lesson" from previous offences.