Three people rescued from the sea in the North West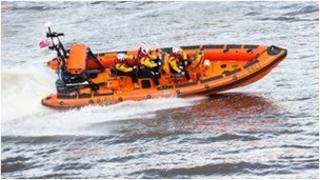 Three people were rescued from the sea in the North West at the weekend.
Two boats sank in separate incidents.
A fisherman was rescued from rocks off the north coast of County Donegal after his boat sank.
He contacted Malin Head coastguard just before 15:00 BST on Saturday when he realised his boat was taking in water.
He climbed onto nearby rocks after his vessel sank but stayed in contact with the coastguard.
The fisherman was found by emergency services and airlifted to Letterkenny General Hospital.
A couple were also pulled from the water in Castlerock after sending a mayday.
Two RNLI lifeguards based on Castlerock beach in Co Londonderry rescued the pair from their vessel.
They discovered their two-berth vessel was taking on water while 150 metres from the shore.
Chris Little from Coleraine coastguard station said were returning to the River Bann when they encountered a heavy swell.
"They quickly realised their boat was being swamped and very wisely put on life jackets and put out a mayday call.
"They mayday call was picked up immediately and a full scale rescue operation swung into action.
"They were in a cabin cruiser about 20 ft long. It doesn't take much water in your boat to loose buoyancy," he said.
"They were plucked from the water just as the boat sank beneath them."