Sean Quinn and Peter Quinn not divided over sons' terms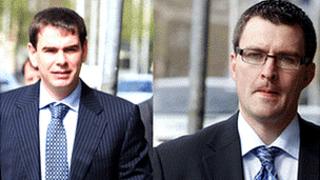 Peter Quinn, the brother of former billionaire Sean Quinn, has said there is no divide in the family over their sons' prison terms.
Sean Quinn jnr and Peter Darragh Quinn were both sentenced to jail last month for contempt of court.
While Sean Quinn jnr is currently serving his sentence in the Republic, his cousin did not turn up in court and remains in Northern Ireland.
His father Peter Quinn said the family remains united.
"There's one thing about the Quinns - we have never split on any issue and we won't split on this issue," Mr Quinn told Radio Ulster's Sunday Sequence programme.
"There has never been a family dispute in our generation of any significance and there won't be.
"Sure Peter's north in the border, Sean's in jail - they both made the decision.
"Sean was asked by his father if he was going to go to jail, he said he would go to jail if that's what was in the best interests of the group.
"Peter was asked if he would go to jail, he said he didn't see any reason why he should go to jail."
The authorities in the Republic of Ireland cannot force Peter Darragh Quinn to serve his sentence if he has left their jurisdiction, although an arrest warrant has been issued for him.
Last month, an Irish judge ruled that he, along with Sean Quinn Sr and Sean Quinn Jr, were in contempt after they put international property worth millions of pounds beyond the reach of the former Anglo Irish Bank.
The former Anglo Irish Bank was bailed out by Irish taxpayers and is now controlled by the Irish Banking Resolution Company (IBRC).
The IBRC claims the Quinns owe it about £2bn and is trying to recover the money from their property assets on behalf of Irish taxpayers.
Peter Quinn told Radio Ulster the Quinn Group would be back.
"The next generation of the Quinn family will be back in business," he said.
"They may not be all over Europe but they'll be back in business and they'll succeed because they have the ability to run a business."
Mr Quinn was also critical of politicians and the media, saying he no longer read the national papers because of what some have said about the Quinn family.
"We have a political system and a media system and to be honest the whole lot of them should be put in a boat some place, shipped off to ap oint where the plug will come down and drop them into the middle of the Atlantic," he said.