SDLP councillor Seamus Shields dies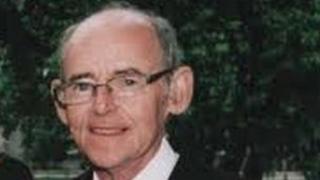 SDLP Omagh councillor Seamus Shields has died after a long illness, the party's leader has confirmed.
The 65-year-old, who represented the Mid-Tyrone ward, was a retired primary school principal who later qualified in 2007 and practiced as a solicitor.
SDLP leader Alasdair McDonnell said: "It's with deep regret and sadness that I learned of the news that our esteemed colleague Seamus has passed.
"The condolences of the SDLP are with his family."
"Seamus faced the consequences of his illness over the years with a bravery rarely seen," he added.
"He leaves behind a record of public service that is an example to us all that will be very difficult to match. He stoically remained true to his values to the end, a social democrat and fighter for equality in every aspect of life."
Mr Shields was a councillor for 23 years and also served on the board of the Ambulance Trust NI, NI Library Board, Irish Central Border Area Network (ICBAN) and the Western Education and Library Board for 12 years.