Northern Bank reports loss of nearly £66m for first half of year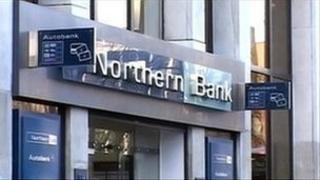 Northern Bank have reported a loss of nearly £66m for the first half of the year.
The figure is £25m less than the same period last year (£90m).
The Danske Bank group overall made a profit before tax of 550m euros for the first half of 2012.
Property debts in Northern Ireland and the Republic are mentioned in the bank's results as the biggest drain on group finances.
£55m of the loss was made within the first three months of 2012 as a large chunk of debts were downgraded, after property values were re-assessed.
The bank are pursuing a deliberate policy of "flushing-out" debt in the hopes of getting rid of bad debt as quickly as possible so that it does not continue to damage the banks finances.
Danske Bank highlighted in their group accounts that most of their impairment charges were due to "commercial property in Ireland and Northern Ireland, personal customers in Ireland and Denmark, and the shipping industry."
Last week it was revealed that Ulster Bank made a pre-tax loss of £555m in the same period.
The six months to the end of June saw an increase in their losses of £12m compared to the same period in 2011.
Last month Northern Bank downgraded its 2012 economic forecasts for Northern Ireland.
It had initially thought the local economy would grow by 0.3% but revised this figure to 0.1%.
The bank's chief economist Angela McGowan said the European debt crisis was the biggest drag on growth.
However, she said the impact of the European downturn on Northern Ireland would not be as bad as elsewhere in the UK.
Listen to the chief executive of Northern Bank explaining the big losses on the business news podcast: hyperlink:http://www.bbc.co.uk/podcasts/series/nibusiness/all