Seventeen people have so far been charged over 12 July riots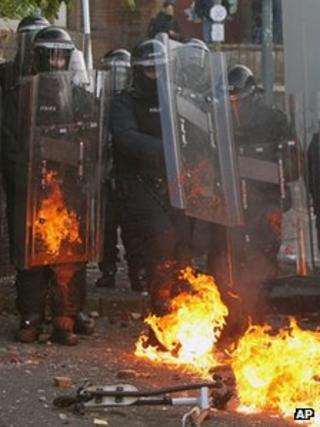 A 30-year-old man has appeared in court accused of involvement in public disorder in north Belfast on 12 July.
Paul James Faulkner, of Kinnaird Terrace in the city, faces a charge of riotous assembly in connection with trouble in Ardoyne.
He did not seek bail at Belfast Magistrates' Court and was remanded in custody until Monday.
To date, 19 people have been arrested and 17 charged over trouble in the Ardoyne and Oldpark areas on 12 July.
Twenty police officers were injured in clashes surrounding a contentious Orange Order parade and counter-demonstration by nationalist residents.
Petrol bombs, fireworks and other missiles were thrown during rioting by hundreds of people on both sides of the sectarian divide.
Ten gunshots were also fired at police from a semi-automatic rifle in Brompton Park.
A 57-year-old man who was arrested on Monday in connection with the gun attack on police remains in custody.
Mr Faulkner's solicitor confirmed he would be making an application for bail on behalf of his client on Monday 13 August.