Two teenagers charged over 12 July riots in Ardoyne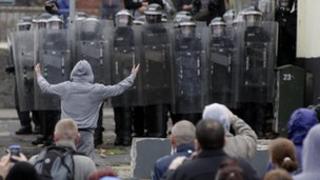 Two 17-year-old boys have been charged over rioting which took place in Ardoyne, north Belfast on 12 July.
One of the teenagers has been charged with riotous assembly and indecent behaviour and is due to appear before Belfast Youth Court on Thursday.
The other teenager faces charges of criminal damage and riotous assembly. He is expected to appear at the same court on Monday 3 September.
Twenty police officers were injured during the disturbances.
The riots followed a contentious Orange Order parade through the area.