Paddy Barnes 'already an inspiration' says minister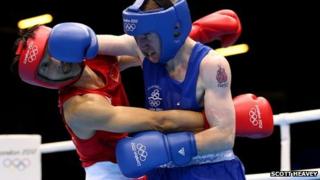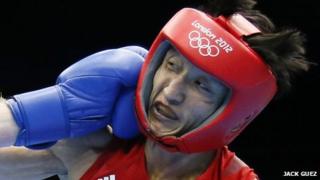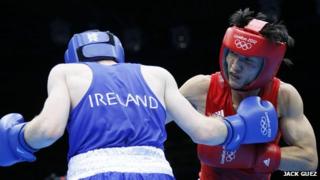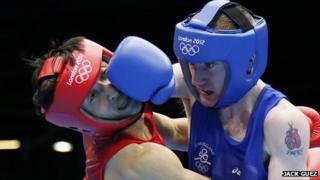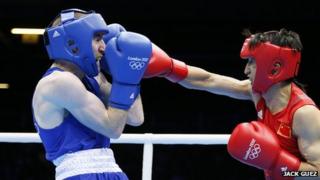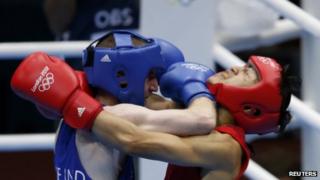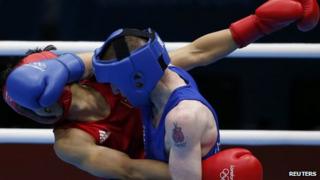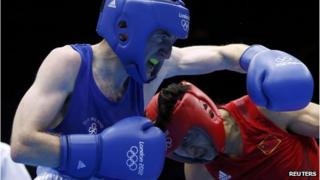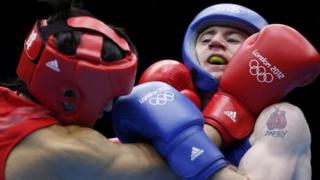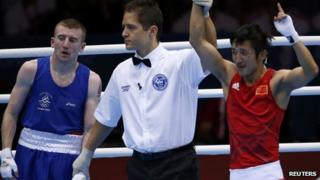 Sports Minister Carál Ní Chuilín has led a chorus of praise for Belfast boxer Paddy Barnes after he won his second Olympic bronze medal.
The Minister said: "As the first Irish boxer to win medals in consecutive Olympic Games, Paddy Barnes is already an inspiration.
"Despite his best efforts today, he was not able to make it through to the final," she said.
"This should not take the shine of an incredible Games for Paddy."
"His training, dedication and commitment - not to mention the support of people both here and in London - have taken him to a bronze medal win.
"What every single one of our local Olympians has achieved so far has been fantastic. They can all be immensely proud of what they have accomplished."
Barnes narrowly missed out on the chance to fight for an Olympic gold medal.
Countback
Barnes drew his light-flyweight semi-final with Zou Shiming 15-15, but bowed out 45-44 after a countback.
Barnes also won bronze in Beijing.
There, he was also defeated by the same fighter at the semi-final stage.
After the fight Barnes tweeted: "Journey ends here, thanks for all the support people, Zou Shimming if you are reading this LEAVE ME ALONE!"
BBC Newsline's Conor Macauley watched the fight with Barnes' trainer Gerry Storey.
"Coming up to the third round, I had them level because it was a good even fight," he said.
"Paddy was there, he kept in close, he wasn't wide and his punches and combinations were going the way he wanted them.
Hound
"The body punches that he scored should have won him that fight.
"Knowing Paddy, he'll be disappointed, but then again, he's the only one who has brought Zou to a countback and he's the top man."
DUP North Belfast MP Nigel Dodds said winning bronze medals at two consecutive Olympics was "a tremendous achievement".
"I congratulate him and all who have supported him in reaching this great accomplishment," he said.
"His success will be an incentive and motivational example for many young boxers."
Sinn Fein North Belfast councillor Conor Maskey said Barnes could be proud of himself.
"It was a very, very close fight, his third round was outstanding," Mr Maskey said.
"He had to go out for three minutes, he knew he was behind and he knew he had to hound the number one boxer in the world, a guy who beat him 15-0 in their last fight four years ago and he got him to 15-each.
"He should be really, really proud of himself, gutted that he hasn't got it, but he has got a bronze medal."
'Tremendous performance'
Ulster Unionist sports spokesperson Robin Swann also congratulated Barnes.
"Paddy put up a tremendous performance against his Chinese opponent and was very unlucky not to qualify for the final," he said.
"He has now won boxing medals at two Olympics and is an example of what can be achieved through hard work and dedication," he said.
Meanwhile, Westmeath's John Joe Nevin is guaranteed at least a silver medal after beating Cuba's Lazaro Alvarez Estrada.
The 23-year-old, from Mullingar, beat the current world champion 19-14.
Team Ireland also has a further chance of obtaining another gold medal on Friday evening.
Belfast's Michael Conlan, 20, will bid for a place in the flyweight final at 20:45 BST.