Paddy McKillen loses London case against Barclay brothers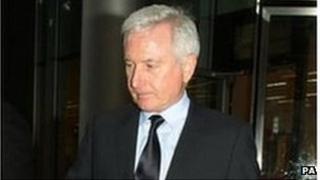 Belfast-born property developer Paddy McKillen has lost his High Court case in London over the control of three top hotels.
Mr McKillen wanted to block a "takeover plan" by twins Sir David and Sir Frederick Barclay for a company that owned the hotels.
On Friday, a judge ruled against Mr McKillen, following a trial spanning more than two months.
It is expected that Mr McKillen will appeal the decision.
Mr McKillen was fighting Sir David and Sir Frederick Barclay over control of a £1bn company which owns the Connaught, Claridges and the Berkeley hotels.
All three men were investors in Coroin.
Mr McKillen claimed that "company affairs" were conducted in a "manner unfairly prejudicial to his interests".
The Barclay brothers disputed Mr McKillen's claims and said his allegations were designed to "tarnish" their reputations and "embarrass" them.
In a lengthy written ruling, Mr Justice David Richards announced that two sets of proceedings brought by Mr McKillen "fail and will be dismissed".