Belfast homecoming for Paddy Barnes and Michael Conlan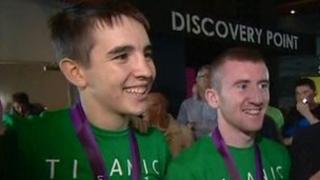 Belfast's Olympic bronze medal winners Paddy Barnes and Michael Conlan have been officially welcomed back home at Titanic Belfast.
The two men unveiled their medals at the building on Monday evening.
They travelled home having arrived in Dublin on Monday with the Irish team, which had its most successful Games since 1956.
Barnes said he was overwelmed by the number of people who came to see them.
"It is brilliant, I didn't expect to see such a big turn out," he said.
"Thanks for the support. It has really meant a lot and driven us on in our fights."
Conlan said: "This is far beyond my expectations. I thought the crowd outside the building was big and then I heard a big roar. It's unreal."
Shortly before flying to Dublin, boxing gold medal winner Katie Taylor said it had been an incredible Games.
"I have been privileged to be part of it," she said.
Team Ireland is bringing home five medals - one gold, one silver and three bronze.
Barnes, 25, who also won bronze in Beijing, became the first boxer from the island of Ireland to win medals at consecutive Games.
Conlan, 20, who is a member of west Belfast's St John Bosco club, won his first medal in his Olympic debut.
The Belfast pair will ride through the centre of the city in an open-top bus on Tuesday at 13:00 BST.
Northern Ireland's other Olympic medallists, Team GB rowers Alan Campbell and brothers Peter and Richard Chambers, will be welcomed back to their home town of Coleraine on Wednesday.
So proud
Before the Irish team's arrival at Dublin airport, fans were advised to stay away and wait until Wednesday when a civic reception will be held at the Mansion House, the official residence of the Lord Mayor of Dublin.
Speaking at Dublin Airport, the Irish sports minister Michael Ring praised the team on their performance.
"They did their families, their country and Ireland proud, and I think we have never sent a better prepared team and it has been the greatest Olympics since 1956," he said.
"You have given a lift to the county. We are in a serious economic situation, but you lift the souls, the minds and the hearts of the people of Ireland and they're delighted to see you all here doing us all so proud."
Meanwhile about 20,000 people welcomed Katie Taylor back to her hometown of Bray, County Wicklow.
She and fellow Bray boxer Adam Nolan toured the town on an open-top bus.
A similar reception was held in Mullingar, County Westmeath, for bantamweight silver medalist John Joe Nevin.
He travelled through the town with fellow Olympian Joseph Murphy on an open-top bus.
President Michael D Higgins has also invited the Irish team to a reception at his official residence, Aras an Uachtarain.