Sports minister prepared to argue for more sport funding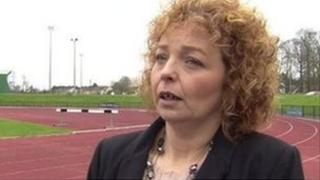 The sports minister has said she is prepared to revise her department's strategy on promoting sport if it helps to get more young people in NI involved in physical activity.
Caral Ni Chuilin described a £3.2m funding boost for boxing announced earlier this year, as a "good start".
The Sinn Fein MLA told Radio Ulster she was prepared to argue for additional funding for sport.
She also said she would work with the Department of Education.
"£3.2m is a small investment, it's a good start, but that's all it is, it's a start," she told the Seven Days programme.
"We are looking for funding for sport over this and in the future. If that means looking at the sports matters strategy that we have and getting it revised then I'm prepared to do that.
"I'm also prepared to go and argue for additional money. There's never going to be enough funding for sport and it's not something I've actually accepted, I'm going to try to argue for more money."
Ms Ni Chuilin said areas of high deprivation particularly needed more support and there was a further challenge in getting schools to open their facilities to the community.
"We need to put money into infrastructure around sport, should that be in clubs or looking at working with the Department of Education to make sure that sports grants or sports facilities are done in a joint way that enhances opportunities," she added.