Arson attack at Lough Foyle Yacht Club in Derry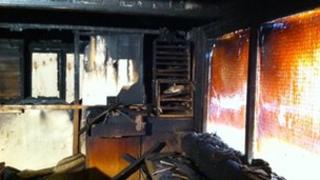 Arsonists have been blamed for a fire at Lough Foyle Yacht Club in Londonderry.
The blaze at the premises at Culmore Point began shortly after 00:15 BST on Saturday.
A 70-year-old building, used as a clubhouse, was destroyed in the fire.
The cause of the fire is still under investigation, but police believe it was started deliberately. They have appealed for information.
SDLP MLA Colum Eastwood it was a very historic small building which had been used by the Wrens during WW2.
"It's a 70 year old building but it's not only an historic building," he said.
"It's a building that was used by the Culmore yacht club to service the community and to teach young people how to sail and I think it's a terrible indictment that this has happened and I want to roundly condemn it."
Ken Doherty, from Lough Foyle Yacht Club said members felt "absolute disgust" by what had happened.
Functional
"We've been using it since the 1960s / 1970s," he said.
"It's a basic wooden hut, there's nothing fancy about it, but it served its purpose and served it well.
"The Wrens hut was our clubhouse and also used for storing the club's marquee, and other office and administration items.
"Sadly, old memorabilia has also been lost, including posters from the 1920s."
Mr Doherty said the club had received support from other local sailing groups and the community.
He said club officers would be meeting with the Loughs Agency, the police and the fire service before deciding what action to take next.
"It's an awful setback, but we will get past it, we will move ahead," he added.
The arson attack happened ahead of two crews from the club taking part in the GP14 World Championships in Cornwall this week.