Gap growing between Victoria Square and other NI shopping centres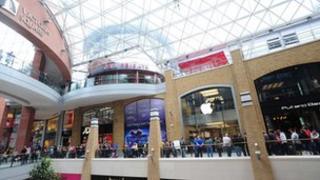 The gap is getting bigger between high-end shopping centres in Belfast and others outside the city centre, according to a retail report.
Colliers International found spending on NI's high streets and shopping centres had been affected by Victoria Square in Belfast.
The report said consumers wanted a shopping experience which combined retail and leisure.
Online retailers were attracting 9% of consumer spending, the report found.
Jonathan Millar, head of retail at Colliers International in Belfast, said: "This divergence of spending from our provincial high streets and shopping centres has been further impacted by the growing influence of Victoria Square, which now offers a comprehensive shopping experience as both a retail and leisure destination.
Bigger spend
"Consumers in general are now looking for a wider retail offer than they can generally experience on our provincial high streets; that is, a shopping day out with visits to restaurants, cinemas, theatres etc in a desirable environment."
Mr Millar said Victoria Square was attracting people from a wider area and its leisure facilities meant customers stayed longer and spent more.
Colliers International's midsummer retail report said many suburban and provincial shopping centres in Northern Ireland had developed as a reaction to the "ring of steel" around Belfast city centre during the Troubles.
It said now this had changed, it had affected the viability of some suburban and provincial schemes which could not survive on pound shops alone.
The research firm said securing viable occupiers for such schemes and high streets remained a challenge, as there have been over 45 UK retail business failures within the last 12 months, most of which have affected Belfast and Northern Ireland's provincial towns.
Colliers International said bigger department store-anchored centres in Northern Ireland, such as Foyleside in Derry and Rushmere in Craigavon, were faring reasonably, as were neighbourhood convenience stores.
It said this was demonstrated by the continued expansion of brands such as Spar, Centra and Tesco Express.