Bankrupt man speaks of life without a bank account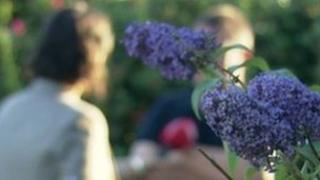 Can you imagine what it would be like to live without a bank account?
For one Northern Ireland man - it is something he has had to get used to since becoming bankrupt - and he says it is costing him more than £100 a month.
After he lost his job in the building trade - he could not pay his bills - and lost everything - including his house.
But he was not expecting to lose his bank account as well.
"The bankruptcy people gave us a letter to say we could have a bank account... for direct debits, but anybody we went to said no," he said.
He added it was his own bank which was the first to shut down his account.
"My wife stood in tears with the letter from the bankruptcy court... and they basically told us no. It's soul destroying. It's embarrassing not having a bank account," he said.
Insolvency and bankruptcy solicitor John Gordon says this is something he has come across before and that he only knows of one bank in Northern Ireland that will allow bankrupts to open accounts.
"Quite often we end up writing to banks or financial institutions indicating to them that there is nothing in the law to prevent a bankrupt from holding a bank account - providing of course that it is maintained in credit," he said.
The problem is that no-one is legally entitled to a bank account.
The British Bankers' Association, which represents the main high street banks in the UK says: "Banks who accept bankrupt customers, open themselves to potential legal challenges from their customer's creditors, who could have a legal claim to money passing through the account."
The man we've been speaking to has since managed to get work, but not having an account has meant a weekly trip to the high street money lending shops to get his cheques cashed every week.
"It's about £120 a month out of my wages and if you've got young kids - £120 out of your money is a lot," he added.
The only light at the end of the tunnel is that bankruptcy in Northern Ireland lasts for only one year. So this man may be able to get an account after that.