Northern Ireland unemployment figures increase again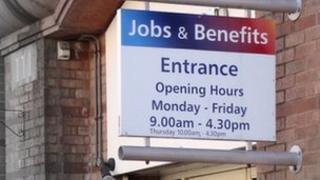 The percentage of unemployed people in Northern Ireland increased to 7.6% between April and June.
This is 0.8% more than the first quarter of this year and higher than the same period last year, although Northern Ireland's rate remains lower than the UK average of 8%.
The number of people claiming unemployment benefits in July was 63,200, an increase of 400.
This figure was the second highest among the 12 UK regions.
Enterprise Minister Arlene Foster said: "While figures show that unemployment has increased over the quarter, the rate of unemployment in Northern Ireland (7.6%) is still below the equivalent rates in the UK (8.0%), European Union (10.3%) and the Republic of Ireland (14.6%).
"This year the Eurozone continues to face a very challenging economic climate and the level of growth in the global economy has been disappointing.
"Last month the UK also reported three consecutive quarters of falling output. We therefore need to place the latest unemployment figures in this wider context of weak external demand."