Concern for stranded fin whale in Baltimore Harbour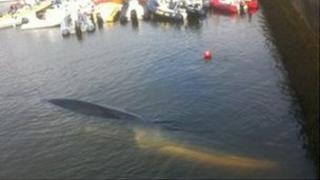 Rescue teams are concerned that a whale stranded in Baltimore Harbour in west Cork will not be able to return to sea.
The fin whale, believed to be 18m long, was seen making its way into the harbour shortly after 08:00 BST on Tuesday.
It is now resting against the west harbour wall and a large crowd has gathered.
It was hoped the rising tide would make it possible to turn the whale.
Kieran Cotter from Baltimore Lifeboat said the whale did not appear to want to leave the pier wall despite the rising tide.
He said whale experts had observed that the whale was malnourished.
It is thought the whale may have wounded itself on sharp rocks close to the pier.
Boats are being kept away from the whale to ensure it does not become further distressed.
Mr Cotter said the chances of it escaping from the harbour were ''near nil''.
He said if the whale did die, he predicted rescue crews would try to haul its body out into deep water.