Public asked for views on future of NI Assembly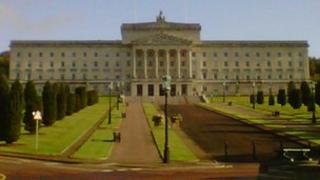 The secretary of state is inviting members of the public to have their say about the future shape of the Northern Ireland Assembly.
The consultation, which was announced by Owen Paterson, runs until 23 October and focuses on four key areas.
It seeks views on improving the operation of the assembly and the prospect of reducing the number of MLAs from the current 108.
There are other suggestions such as ending double-jobbing.
This would mean MLAs would be unable to sit in either Westminster or the House of Lords.
Other ideas open for the public to comment on, include developing an opposition so there is greater scrutiny, and increasing the term from four to five years.
The next assembly election is due in 2015, so increasing the length of the mandate would mean no election until 2016.
'Divisive'
This would be in line with plans for Scotland and Wales, and it is favoured by political parties.
However, the Shadow Secretary of State, Vernon Coaker, described the consultation as "premature" and "divisive".
"It's the wrong priority at the wrong time. The priority should be jobs, should be the economy".
The Labour MP added: "Here we are, a year into the second full term assembly and the secretary of state seems to be calling for almost as sea change in the way the executive and the assembly have been set up," he said.
"We need to see how well the system beds in. It's premature to call for some of the changes he's calling for, particularly the establishment of an opposition.
"He needs to be careful with the architecture of the Good Friday Agreement and the way that that's delivering stability and progress in Northern Ireland at the present time."
Mr Coaker said he was concerned that the secretary of state had already prejudged the outcome of the consultation, due to a recent speech he made in Dublin, in which he criticised the assembly's performance.