Bann Rowing Club facilities pledge by sports minister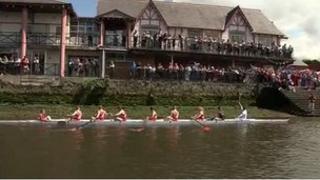 Northern Ireland's sports minister has said she will look at what can be done to improve facilities at a rowing club which nurtured the careers of three Olympic medal winners.
Alan Campbell and brothers Richard and Peter Chambers returned to the club in Coleraine for a reception in their honour.
Carál Ní Chuilín said: "One toilet between 80 children and not enough facilities isn't good, and I'm going to look at what support we can bring to this project."
She added: "What I am committed to is doing a proper assessment to see what the needs are, then find the money."
Ms Ní Chuilín was speaking in Coleraine on Wednesday after meeting the three medal-winners.
'Spit and sawdust'
Earlier, the club's vice captain called on the minister to provide rowing with the same financial backing she has given to boxing, where Paddy Barnes and Michael Conlan both won Olympic bronze medals.
Speaking to BBC Radio Ulster ahead of the homecoming reception, Stephen Smyth said: "Our boat club is virtually unchanged since the 1920s.
"The weights room, gymnasium, the lack of facilities will astound the minister.
"If she thinks boxing clubs are spit and sawdust, when she sees where we produce champions from at Bann I'm sure she will find some money somewhere."
Speaking last week following the success of Team Ireland's boxers, Ms Ni Chuilin said she had been shocked at the state of some of Northern Ireland's boxing clubs when she took up her post as minister for culture, arts and leisure.
She said some had no toilets, and there were "pigeons flying through" a boxing club in Belfast.
The £3m boxing investment was first announced in June and the money is due to be made available to clubs by the end of the year.