South West College receives award for teaching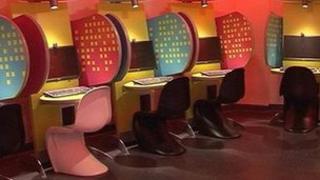 One of Northern Ireland's higher education colleges has received an award for its teaching of science, technology, engineering and maths (STEM).
South West College, based in Fermanagh and Tyrone, is spending £2.5m on new technology centres at three of its campuses.
It is also the first college in NI to be asked to join the Intelligent Colleges' Network, which recognises innovation.
Deputy director Michael McAllister said the college had been granted "STEM-assured" status.
"There are something like 12 STEM colleges in the UK out of a total of 350 and we're the first in Northern Ireland, so that is very, very exciting for the college," he said.
The college already has a high tech STEM centre on its Dungannon campus.
Mr McCallister said they were helping students save money.
"It gives students an opportunity to access industry-leading technology, to engage with industry directly but also to learn in a totally different environment," he said.
"So that's a huge investment by the college but it's also giving students the opportunity to come on board, see what industry really looks like and benefit to the maximum from that."