Ballymena couple celebrate £2m Lotto 'mistake'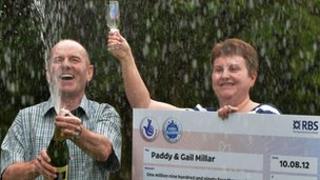 A Ballymena couple have been celebrating their two million pound lottery win due to a mix-up over a family birthday
Paddy and Gail Millar won the money in a EuroMillions draw on Friday 10 August.
Paddy put his wife's age down as 48 instead of 49 when choosing his numbers.
"It's the best mistake I've made in my life," he said.
The couple are both nurses; Paddy in a district nursing team and Gail in the Antrim Area Hospital.
The Millars say they have no plans as to how they are going to spend their new found wealth.
In the same EuroMillions draw Adrian and Gillian Bayford became the UK's second-biggest lottery winners.
The Suffolk couple scooped a jackpot of £148m.