Michael Conlan loses phone with Olympics photos in nightclub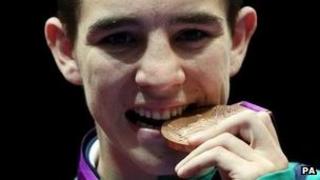 Belfast Olympic bronze medallist Michael Conlan has lost his mobile phone containing all his photographs taken during the Games.
Conlan was celebrating with team mates in a Dublin nightclub when he realised his phone was missing.
His father, John, said the 20-year-old was "gutted".
"It has all his photographs with people like Usain Bolt and Serena Williams, as well as the ones with his team mates and the medals," he said.
'Mobbed'
He said their night out at Copper Face Jacks nightclub was the first chance the Ireland team had to get together to relax since they returned from London on Tuesday.
"As soon as they went in, they were mobbed before even getting a drink," he said.
"He realised pretty quickly that he'd either dropped his phone or he was pickpocketed - he can't say for sure and doesn't know exactly when it went missing.
"Nobody has handed it in yet, and we'd appeal for anybody who picks it up to hand it in to the police."
The athletes were celebrating following a huge reception for Team Ireland in Dublin city centre.
Thousands of people turned out in heavy rain to welcome home the team, which won five medals in Ireland's most successful Olympic performance for almost 60 years.
After the public welcome, the team members were congratulated by Taoiseach Enda Kenny.
One photo which has not been lost is of Conlan making a cheeky gesture behind the Irish prime minister's head.