Olympics Games steels Ballydrain Harriers for last lap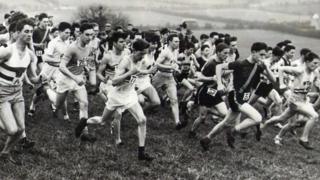 The Greatest Show on Earth is only just over but already talk has turned to the legacy of London 2012.
The Olympic Games was secured upon the promise of transforming east London and inspiring the people of Great Britain and Northern Ireland to be more active.
There is already evidence that the huge success of Team GB and the Irish Olympic team has encouraged people to get more active or try a new sport.
But one well known sporting club in Northern Ireland is finding times very tough.
Ballydrain Harriers are celebrating their 80th anniversary this weekend, but instead of looking forward to many more years of success, the handful of members still standing - or should that be running - fear the club may not see another big birthday.
The running club - who have been Northern Ireland Junior Champions eight times - are displaying a fabulous collection of photos, medals and memorabilia as part of their celebrations.
They have been based in Ballydrain, just outside Comber in County Down, for all 80 years but are now in the process of handing back the hall that was gifted to them by the local church.
Jim Hayes has been a member of the Harriers for almost 50 years.
He said it was getting tougher for him and the few remaining members of the club.
"The Presbyterian Church gave us the old national school many, many years ago," he explained.
"But the upkeep has become difficult and expensive. We've only half a dozen members and they are all elder statesmen. We're having to pay insurance, electricity and rates.
"We hope to keep operating out of a new base in Comber."
But why are the Harriers struggling whenever it seems that running has never been more popular?
"In my day, if you saw anyone out running you would have known who they were, they were an athlete, they competed with a club. But now everyone is out running and jogging.
"There are also so many fun runs for charities. It's all changed. There's no emphasis on team competition to the same extent as there used to be," Mr Hayes said.
"Our problem is getting enough young blood to run the club. It's okay to round up a few casual runners but it's getting down to the nitty gritty of having proper meetings and building a team as the club's original aims were.
"But it's going to be very difficult because people are just out for the fun of the thing."
While the Olympics have undoubtedly caused an increase in sport, Mr Hayes is not so sure that the Harriers, and clubs like them, will see a massive benefit.
"There may be a little spin off," he said.
"After Wimbledon you see kids out playing tennis; in the cricket season they get the cricket bat out, so there will be a bit of a lift. Cycling is going to benefit more than possibly athletics.
"Once the Premier League starts the hype of the football is going to dull things down. People are already out running anyway; it's just a matter of trying to harness them into a club situation. It's going to be very hard work."
But as every runner knows, it is the last mile, the last lap that's the toughest.
So do not count the Ballydrain Harriers out of the race just yet.