Residents block buses amid safety fears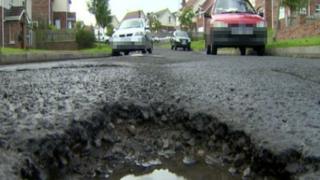 Some residents in an estate on the outskirts of west Belfast are blocking buses from their street because of concerns about safety.
Mount Eagles was only built in the last decade, but now the upmarket estate is home to hundreds of people.
And that means buses roll in and out of the development about every half hour.
But now they are cutting their journey short because of a residents' protest. It began after a dog was run over and killed by a bus.
Some residents say they are worried a child could be injured and that blocking the road is a last resort.
According to some local people, Mount Eagles Avenue is too narrow and has too many pot-holes to be used by buses.
They have taken action to stop buses going down the street by moving their cars out of their driveways and onto the street; that means buses can not get past.
So for the last month, Translink Metro services to the estate have been only going as far as Mount Eagles Square, a third of a mile away from the end of their normal route.
Niall Cullen, who lives on Mount Eagles Avenue, says: "You know a bus is coming past when your house starts shaking.
"They're driving on roads that are not fit for purpose.
"This street isn't even wide enough for one-way traffic."
Mount Eagles Avenue is currently an "unadopted" road; in other words, it is not maintained by the Roads Service.
A developer was responsible for it, but the firm has gone bust.
The protest has been going on for five weeks.
Mr Cullen and two other residents have been cautioned by police for blocking the road.
In a statement, Translink says: "Many residents, including elderly passengers, who rely on our services, are being disadvantaged by the obstructions."
The company say they held a public meeting recently and that residents expressed an "overwhelming desire" for services to be restored throughout the development.
SDLP councillor Brian Heading suggests that shuttle buses should be used to pick up passengers from the estate and drop them at a bus stop on the nearest main road.
"That would, at the very least, as a pilot, see that other options are looked at by Translink," he says.
"You can see by the state of the roads and the bottle-necks that occur, that it's difficult for some of the residents' traffic getting out, never mind Translink buses."
The Roads Service say a link road will be built which will halve the number of bus trips on Mount Eagles Avenue.
They also say they are satisfied that the roads in the estate have been designed and laid out in accordance with design standards.
Translink is expected to have discussions with the people involved in the protest in the next week.