Fermanagh District Council offering training to unemployed young people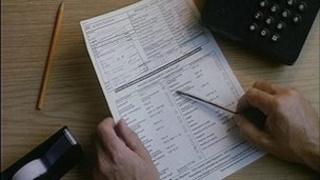 Fermanagh District Council is trying to help young people gain experience in the workplace by offering training in six areas within the council.
The jobs are open to anyone who has completed their education within the last two years and is now unemployed.
Successful applicants will work full-time and be paid £252 per week. Some posts will require flexible and varied working patterns.
The jobs cover a range of sectors within the council.
These are: sports development and events assistant, technical support officer, town warden, a HGV mechanic, quantity surveyor and construction site supervisor.
The council said the scheme will provide a platform to gain experience and improve their potential to gain employment.
Brendan Hegarty, chief executive of Fermanagh District Council, said many young people had excellent qualifications but were not currently in employment or training schemes.
Catch 22
"This programme will offer them the opportunity to gain valuable work experience," he said.
"These people are often caught in the cycle of not being able to get a job because they haven't got experience and they can't get experience without a job.
"Our council recognised that. Increasingly we've been approached by people with good qualifications looking for these type of opportunities with the council.
"Our councillors are all too aware of young people leaving the local area and some actually leaving the country and the impact that has on rural communities so the councillors themselves came up with the initiative."
Mr Hegarty said those taken on would be given a six-month contract.
"There's no guarantee at the end of the six-month period but obviously if permanent posts are available, those who have come through the programme will be very well placed to apply for those jobs which would be open to everyone," he added.
For more information on the roles, minimum requirements and application forms, please contact the Jobs and Benefits office in Enniskillen on 028 66343343.