Belfast City Centre scheme reduces shoplifting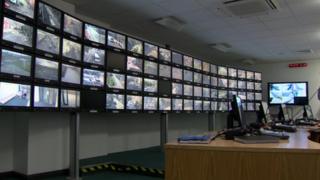 A campaign by Belfast city centre traders and the PSNI to tackle shoplifting is proving successful.
The number of crimes of this type are down compared to an upward trend in the rest of the UK.
Shoplifting costs businesses hundreds of millions of pounds each year.
But the PSNI along with local traders say they are having real success in dealing with the problem particularly in Belfast.
The police control room is able to access CCTV cameras all over the city and is a major tool in tackling the shop and street crime in Belfast.
The latest police figures for reported shoplifting in Belfast city centre show a reduction of more than 15% this year on the same period in 2011.
That represents 59 fewer incidents of this type of criminal activity.
However, this is not entirely due to a zero-tolerance, no-excuses, kind of policing - even those who are caught in the act do not automatically find themselves in front of a court.
Andrew Irvine, Belfast City Centre manager, explained that suspects are given a choice and they are given a chance.
"The retailer will say to them I can call the police and you're going to get a criminal record here," he said.
"The alternative is you can volunteer to join a scheme, in which case they give us their details including a photograph - we take an image - and that is shared in all the stores.
"We then decide, depending on whether or not they've shoplifted before, how long to ban them for."
Burglary
Those who opt to skip court are normally excluded from the stores for between six months and a year.
"If during the period of exclusion they shoplift again, they're looking at a burglary charge which is altogether more serious," said Mr Irvine.
And, given the technology available to the police, it seems likely any repeat offenders will be identified.
Inspector Robert Murdie of the Central Neighbourhood Policing Team explained that, in addition to monitoring CCTV throughout the city, officers are also linked to the shoplink radio system which operates through the retail crimewatch scheme in Belfast.
"Over 300 retailers are connected via this scheme and they can report on the potential movement of shoplifters throughout shops and then we can monitor them through our bank of CCTV," he said.
Better trained staff, sophisticated technology and more robust procedures are making life difficult for the shoplifters.