Tributes paid to girl killed in horse riding accident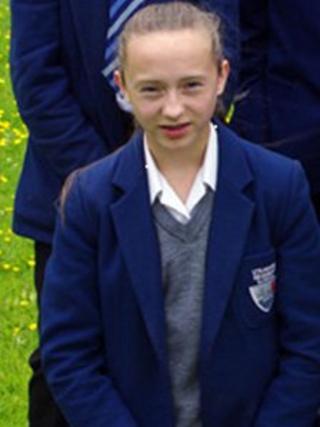 Tributes have been paid to the 13-year-old girl who was killed in a horse riding accident in County Londonderry.
Hannah Wiley, from Artigarvan in County Tyrone, was taking part in a show jumping event at Eglinton Equestrian Centre.
The accident happened on Friday evening.
Hannah's principal at Strabane Academy, David Hampton, said she was a very special young girl who excelled both academically and on the sports field.
"Hannah was extremely polite and well mannered and was a pleasure to have in our school.
"She was an exceptional young girl, the whole school is extremely shocked by her death.
"For something like this to happen is extremely sad.
"Our thoughts are with Hannah's family."
Model pupil
Catherine Moore taught Hannah PE. She said there is a feeling of utter shock following the school girls death.
"Hannah was a model pupil. This year she was captain of her hockey team. She was a natural choice as she was popular with her peers.
"She was always such a happy child. She was a very gifted pupil who everyone loved.
"Hannah had the makings of a head girl."
"Every member of staff is in pieces. We are all devastated.
"Our priority now is to think of our pupils," she said.
"We have access to school councillors. We will have everything in place that is needed for those children in our care.
The Reverend Mark Russell from Leckpatrick Presbyterian Church said the family was still trying to come to terms with the loss of their daughter.
"Nobody expects to experience the loss of their 13-year-old daughter," he said.
"I have spent time with the family, who have found it very difficult.
"Hannah was a great child. A very quiet girl, so full of fun and energy and very committed to everything she was involved in.
"I have had so many phone calls from people in the community shocked by the news.
"For those young people in her school especially, it has come as a big shock.
"The family have been encouraged to hear so many people have thinking about them," he said.
Derry City Council is taking the lead in investigating what happened.