Consultations continue for NI national park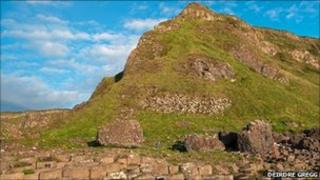 Environment Minister Alex Attwood has discussed with the Ulster Farmers' Union whether there should be national parks in Northern Ireland.
The Mournes, the Causeway coast, the Antrim Glens and Fermanagh Lakelands have been identified by Mr Attwood as likely areas for the designation.
Northern Ireland is the only part of the UK without a national park, and the minister wants two to be created.
The Ulster Farmers' Union has argued that national parks are unnecessary.
Protected countryside
Its president, Harry Sinclair, said they feared extra restrictions would be placed on what farmers could do with their land.
"Our members feel very strongly that national parks don't have any benefits for them as landowners.
"Research would show that the number of tourists who visit an area just because it's a national park is very small.
"I don't see why we need national parks."
National parks are areas of protected countryside. England has 10 national parks, Wales has three and Scotland has two.
Each park is administered by its own independent government-funded body which looks after its conservation and promotes its benefits to the public.
'Win-win'
Mr Attwood insisted national parks would not bring extra restrictions for farmers.
"I appreciate that farmers have concerns about how national parks might affect them but we can have a model that reflects our particular circumstances, including land ownership
"The Northern Ireland model can take what is best elsewhere, work up what is best for us and achieve a win-win; a win for all local interests in park areas and a win for the people and economy of Northern Ireland."
Mr Attwood said he would be circulating a paper to the executive recommending they endorsed the principle of legislation to give the Department of Environment updated powers to designate areas as national parks.
The minister said it was not true that most national park land in Great Britain was publicly owned.
"It is true that we have a different pattern of land ownership here, with smaller family-owned farms," he said.
"That is why I am advocating a national park model that reflects this local pattern."