Trucks and vans cleaned to perfection at Belfast's Truckfest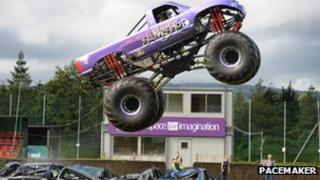 Do you know your cab-over from your dead-heading? If so, you probably spent much of the weekend drooling over trucks and vans at the King's Hall in Belfast.
Six hundred vehicles rolled into town for Truckfest - a celebration of all things truck and van.
It is the first time the event, which is in its 30th year, has visited Northern Ireland.
It was quite an eye-opener for the uninitiated.
I spoke to one man called Stuart who had won the Best Light Commercial award which he said he received for the cleanliness of his vehicle.
"The interiors have all been customised, under the bonnet has been customised and underneath is as shiny as it is on top," he said.
Stuart explained that it took many hours of cleaning for him to be successful in the competition.
"A lot of people are under the impression you come to a truck show and you wash and polish the outside and you put some shiny stuff on the wheels and you are in with a chance of winning, but you're not.
"It's the things that people don't see, that you wouldn't think to check, that's where the judges look.
"That includes underneath, under your wheel arches, inside your wheels and under your bonnet.
"They will put their hands in the little crevices to see if you've cleaned them."
Sleep in it
Stuart said his van was also practical as he used it for his job which takes him to call-outs when people break down.
"I do sleep in it. I spend a lot of time in it. I'm on call 24 hours a day, everyday," he added.
Bob Limming, director of Live Promotions, the company responsible for Truckfest, said he was "delighted" to bring it to Northern Ireland.
"We created this event 30 years ago and it's just grown and grown," he said.
"It grows by everyone's enthusiasm and if you're involved with the industry, it's a shop window.
"When people come to these shows, they spend the whole time polishing their vehicles and they don't actually see anything."
Not everyone was quite as enthusiastic. One wife I spoke to said: "I'm just not really into it, I'm here because my husband and children are into it."