Other University of Ulster departments unaffected by error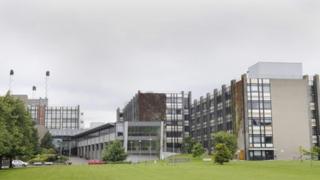 The dean of the Faculty of Engineering at the University of Ulster has said no other department will be affected by costs incurred after an administration error.
Around 100 students who were mistakenly offered a place at the Jordanstown campus have now been accepted.
This means the university has more students than the government allows.
Speaking to Radio Ulster's Evening Extra, Prof Richard Millar said it was unclear how much the error would cost.
"The university has a contingency fund and this is something we have built up over a few years," he said.
"It's a bit like you and me trying to put a little bit a way each month into savings for a rainy day for unforeseen circumstances.
"It will not impact any students or any of the student experience."
The University of Ulster has said it will introduce an engineering foundation year to help students affected by an email admissions blunder last week.
The university mistakenly sent emails offering 370 places on courses in the faculty, but only 180 places were available.
No legal advice
It later withdrew the offer, but subsequently said it would offer 100 extra places.
Prof Millar said that the university had not taken any legal advice or had legal representation made to them.
"We have done this because of the moral obligation to these students," he added.
Also speaking on the programme, Bob Mason, the president of the University and College Union at the University of Ulster, said he estimated a fine for breaching the cap of undergraduates in that faculty to be in the region of £380,000.
Prof Millar said there was the possibility of the Department for Employment and Learning would levy a penalty upon the university.
"We will also incur additional costs to put in new staff in place and provide other resources to these students," he said.
On Sunday, Northern Ireland's Employment and Learning Minister, Stephen Farry, said it was likely that the university would breach restrictions on student numbers, designed as a means of financial control.
The vice-chancellor, Professor Richard Barnett, has previously apologised personally for the error.
He said those with the appropriate A-levels would be on the honours degree, although a foundation year would be offered to those he believed did not have the required qualifications.
The University of Ulster also has campuses in Belfast, Coleraine and in Londonderry.