UDA denies issuing threat to Belfast journalist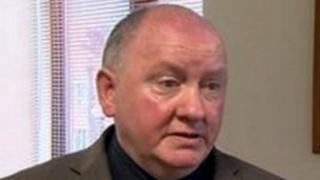 The Ulster Defence Association (UDA) has issued a statement categorically denying making any death threat to a journalist.
Earlier, the National Union of Journalists (NUJ) said the paramilitary organisation had issued a threat against the life of a Belfast-based journalist.
The UDA statement said it respected "the freedom of the press and the right of all journalists to carry out and pursue their profession free from intimidation or threat".
Seamus Dooley, Irish secretary of the NUJ said he would give a guarded welcome to the UDA statement, "but the threat is not imaginary, it does exist."
Graffiti, including the journalist's name and mobile telephone number, has appeared in some areas.
The police said they could not comment on the security of individuals.
The union has not released the name of the journalist.
Earlier, the NUJ appealed to anyone with influence with the group to have the threat withdrawn.
Mr Dooley said the threat, made by telephone on Saturday, was not the first issued to the journalist.
He said the journalist had been writing about the UDA and he believed this was the reason the person was targeted.
The UDA is the largest of Northern Ireland's paramilitary groups.
It announced a ceasefire in October 1994 but in following years underwent a series of feuds and splits.
Investigative journalists in Northern Ireland were frequently threatened by paramilitaries during the Troubles.
Sunday World journalist Martin O'Hagan was shot dead in September 2001 by the loyalist splinter group, the Loyalist Volunteer Force.
His colleague, Jim Campbell, who was then the newspaper's northern editor, was seriously wounded when he was shot by the Ulster Volunteer Force in 1984.