Scottish universities assess Irish passport loophole impact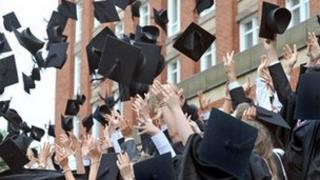 The Scottish government is assessing the impact of Northern Ireland students who can study for free because they hold Irish passports.
Some sixth form pupils in Northern Ireland had applied for the passports because, as EU students, they would not pay fees at Scottish universities.
Pupils who have lived in Scotland for at least three years do not pay fees.
This is also the case for EU students, as EU law does not allow discrimination against those from other member states.
When details of the loophole emerged earlier this year, there was an upsurge in interest in Northern Ireland from prospective students in applying for Irish passports.
It is not yet known how many Northern Ireland students will be able to study for free at Scottish universities.
A Scottish Government spokesman said: "Universities are still processing thousands of applications from students, following the publication of Highers and A Level results.
"We will continue to liaise with Universities Scotland and individual institutions around the precise number of students from Northern Ireland who have been accepted to the Scottish system as EU students."
'Nothing to pay'
For one Belfast student the situation is clear.
Sophie McCleery will be studying French and Spanish at Edinburgh University for free. All the documents she has received confirm that.
Her mother Stephanie says: "The University of Edinburgh says she is EU and as such her fee rate is £1,820.
"We also have a letter from the student awards agency in Scotland telling us that they will be paying the £1,820 on her behalf to the university.
"So, basically, Sophie has absolutely nothing to pay this year, feewise."
However, the situation is less clear for Jonny Little who is taking up an offer to study psychology at Glasgow University.
"We have got an OK at many stages which gives me a lot of confidence but there's still that little niggle of worry because we don't have that formal piece of paper saying that I'm in for free," he said.
For Jonny, the process has been "quite a nightmare".
Bonus
"There's a lot of stuff you need to look into and, when you ask people about it, they're not really sure because of the whole dual nationality," he said.
He still has an additional form, "four pages long with 16 pages of notes" to complete to clarify his fee status.
A bonus for Northern Ireland students, is that even if they are classed as EU students and avoid paying tuition fees, they can still get a student loan as a UK citizen.
Students in Northern Ireland have dual nationality and can opt for British or Irish passports.
Students from Northern Ireland holding British passports, like students in England and Wales, have to pay the higher fees, of up to £9,000 a year, in Scotland.
Earlier this year, the DUP East Londonderry MP Gregory Campbell said the Scottish government should remove fees for all Northern Ireland citizens.
"This would restore fairness in that those who wouldn't be comfortable being an Irish citizen can still avail of free places at Scottish universities," he said.
"Those who do not accept being labelled as Irish should not be disadvantaged to the tune of up to £27,000 over a three-year period."