Paralympic flame lit at Slieve Donard in NI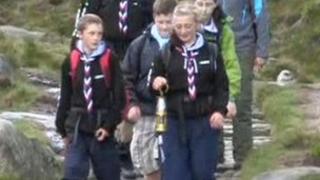 Scouts and mountaineers scaled Northern Ireland's highest peak, Slieve Donard in County Down, on Wednesday to create the National Flame as part of the London 2012 Paralympic Torch Relay.
A ferrocerium rod was struck against a rough steel surface to create the sparks for the flame at 09:30 BST.
It was placed in a miner's lantern to be brought back down on foot.
The flame will then be transferred to Belfast for a day of Paralympic celebration on Saturday.
Scouts lit four flames atop the highest peaks of the UK to spark the Paralympic torch relay.
They will also struck flint against steel on Scafell Pike in England, Snowdon in Wales, and Ben Nevis in Scotland, on Wednesday.
The four individual flames will then be transferred to the nations' capital cities where they will each become the focus for a day of Paralympic celebrations.
The flame from Northern Ireland will light a ceremonial cauldron at Stormont in Belfast on Saturday morning.
This will be followed by community visits in Ballymena, Cookstown, Carrickfergus, Londonderry, Lisburn, Newry and Strabane. There will be a flame festival on Saturday evening outside City Hall in Belfast.
The flames will eventually unite in the home of the Paralympic movement, Stoke Mandeville. next Tuesday.
A 24-hour relay will then take in Tower Bridge, London Zoo and Lord's en route to the Games' opening on Wednesday, 29 August.
There, the cauldron will be lit to herald the start of the Games.
Sebastian Coe, Chair of LOCOG, said the combination of teamwork and human endeavour being used to create the Northern Irish Flame was "a very fitting start to the Paralympic Torch Relay celebrations".
"This group of inspirational individuals will be lighting the way to a fantastic 10 days of sport," he added.
Northern Ireland Sports Minister Carál Ni Chuilín said the flame-lighting ceremony at the top of Slieve Donard marked "the start of the Paralympic flame events in Ireland".
She added: "There are a number of exciting events taking place on Saturday 25 August. I would like to encourage everyone to get involved in the events and to get behind all the athletes from Ireland who will be competing in the games."
The four Scouts selected to take part in the flame creation were Daniel O'Mahony, 16, Rachel Nicholson, 15, Matthew Dorrian, 13, and Josh Morrison, 13.
They were all chosen from communities local to Slieve Donard.
Rachel Nicholson said she was "excited about taking part in the creation of the Paralympic flame".
"It's a fantastic opportunity and such an honour to be involved," she said.
"The Paralympics are an inspiration to everyone and I wish all the competitors good luck with their games."
The group also included Bernie Sloan, from Warrenpoint and Pat Shields from Newry who were part of a group of 15 blind and partially sighted people training to climb Ben Nevis. Both of them were nominated by the Royal National Institute of Blind People Northern Ireland.
Bernie Sloan said: "I feel so lucky to be included in this once in a lifetime opportunity.
"Climbing Slieve Donard will be a challenge but I can't wait to get to the top for what will be a historic occasion."
Slieve Donard is the highest mountain in Northern Ireland at an altitude of 850 metres above sea level.