NI bucks the national trend in GCSE exam results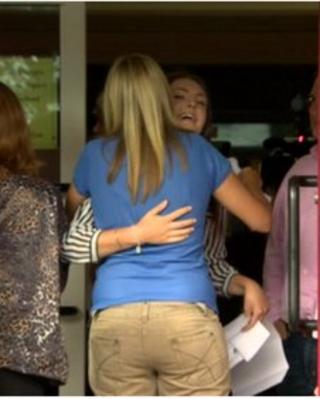 Northern Ireland students have bucked the national trend of falling GCSE grades and instead have seen a slight improvement in their results.
Almost 32,000 pupils in Northern Ireland received their GCSE results on Thursday morning.
A* to C grades have gone up by a small margin to 75.6% compared to the national UK average which has fallen to 68.4%.
In Northern Ireland only 1% did not get any pass grade.
About 658,000 students in England, Wales and NI are receiving results.
The number of GCSE students in Northern Ireland schools has been reducing, year on year, because of a population slump.
However, the number of pupils staying on to sixth form is rising. In 2007, 54.7% of pupils stayed on, but that rose to 66.3% in 2011.
Over the last six years the number of students getting five good grades has risen steadily.
The results in English GCSE were down slightly in Northern Ireland this year.
Despite the rise in students getting more than five good grades, there has also been a slight increase in the proportion of students leaving school with no qualifications.
Earlier this month, 13,000 students received grades for their A-level exams.
Overall, girls achieved better results than boys.
More than 80% of A-level entrants in Northern Ireland achieved grades A*- C in 2012.
Stormont Education Minister, John O'Dowd, and Employment and Learning Minister, Dr Stephen Farry, congratulated young people on their results.
Mr O'Dowd said: "I appreciate that not everyone will have got the grades they were hoping for and I would urge those young people not to panic.
"Your teachers, parents and careers advisers are all there to guide and support you and they can help you decide on what career and study options are available to you."
Further information for those obtaining GCSE results can be obtained from NI Direct.