Man appears in Londonderry court on explosives charges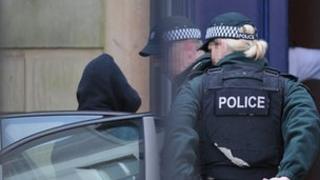 A 29-year-old man has appeared at Londonderry Magistrates Court charged with having explosive devices.
Joseph Hugh Allen from Melmore Gardens, is charged with possession of, or having under his control, a pipe bomb.
He also faces other charges including intent to endanger life, or cause serious injury to property.
A police officer told the court that the defendant was suspected of being involved in a dissident republican double bomb attack last year.
The attacks took place at the homes of a GP and forensic medical officer, and of a serving police officer in Claudy in September last year.
The police officer said following the double attacks, seven people were arrested and 11 searches were carried out.
Concealed
One of the houses searched at Melmore Gardens belongs to the defendant's sister.
The officer said during the search, police recovered a tool box hidden inside a rug which was concealed under children's toys. The tool box was found in an unlocked garden shed.
The police witness said it was in this shed the police found the improvised explosive device and fertiliser.
She added that the defendant was arrested on October last year for questioning about the items and was released. Mr Allen was re-arrested yesterday and interviewed at Antrim Serious Crime suite.
His finger prints were taken and they matched prints on several of the items found in the tool box. The officer said the defendant denied any involvement or knowledge of the double bomb attacks and of the tool box and the items found inside it.
She said the pipe bomb was similar to a device thrown by dissident republicans at police officers carrying out a search in the Creggan estate earlier this year.
The officer added that children were in the immediate vicinity of the attack when the pipe bomb exploded.
She also said she believed the defendant would engage in further terrorist activity if released on bail and he would flee the jurisdiction.
Applying for bail, solicitor Dermot Walker, said the defendant denied the charge and also denied any involvement in the Claudy bombing incidents last September.
Denied
He said the defendant had an exemplary record and he could have fled the jurisdiction following his arrest and subsequent release last October.
The defendant was remanded in custody and will appear in court again for a video link hearing on 12 September, but has the right to apply to the High Court for bail.